08 Mar 2023
Embracing equity through education, leadership, and economic empowerment
This International Women's Day our global partners are overcoming the barriers to female empowerment by supporting Black feminist leadership, equipping young people with the tools to make a more equal world, promoting digital and educational inclusion, and showing through action how women's economic equality is good for business… and the world.
Women and girls around the world are coming together to 'embrace equity'. They will collectively celebrate their resilience, raise their voices, and together create a more  equal future where every girl can grow up to realise her full potential.
But what does it mean to embrace equity in a world where women and girls face multiple, intersecting barriers to true equality? How do organisations embrace equity when multiple overlapping challenges – from the climate crisis to conflict and the lingering impact of the pandemic – threaten to roll back progress on women's and girls' rights? And what can grant-makers do to support feminist organisations to overcome these challenges?
At CIFF, we believe that the answers to these questions can be found in the actions and voices of women and girls around the world, who are forming their own initiatives to overcome the barriers to equality so every girl can fulfil her potential. That's why we work closely with organisations which recognise the intersecting challenges women and girls face, and that organise at the intersections of gender, race, and other marginalised identities, in order to embrace a fairer, more equal future.
Mission Buniyaad
We believe that fundamental to supporting women and girls to embrace equity is the need to promote and support access to education. The Sustainable Development Goals recognise that girls' education is central to an equal world. But after decades of progress, the combined crises of climate, conflict and coronavirus have led to a rollback of rights, with girls' education at risk.
Many of our grantees are determined to embrace education and economic equity in order to promote girls' and women's advancement, starting with Mission Buniyaad.
In Rajasthan, India, girls drop out of school early and at alarmingly high rates, putting them at risk of gender-based violence and poor sexual and reproductive health, including child marriage and early pregnancy. The barriers to remaining in education, however, are complex. Poverty, periods and gender stereotypes all combine to keep girls out of the classroom.
Mission Buniyaad is a successful collaboration between the Government of Rajasthan, CIFF, Kaivalya Education Foundation (Piramal Foundation), GDI Partners and ConveGenius. The programme promotes educational and digital inclusion that allows girls to keep on learning and to develop new life skills. The ed-tech model micro-pilot reached out to 21,000 school students in 60 schools across six districts in the region and improved learning outcomes by 20 percent. Given the success of this micro-pilot, the Government of Rajasthan has now scaled Mission Buniyaad across the state.
Mission Buniyaad's success lay in the recognition that girls' education and equality must take a multi-stakeholder, holistic approach: supporting a girl to overcome intersectional barriers embracing equity requires the collective support of state officials, community leaders, parents, teachers and the girls themselves.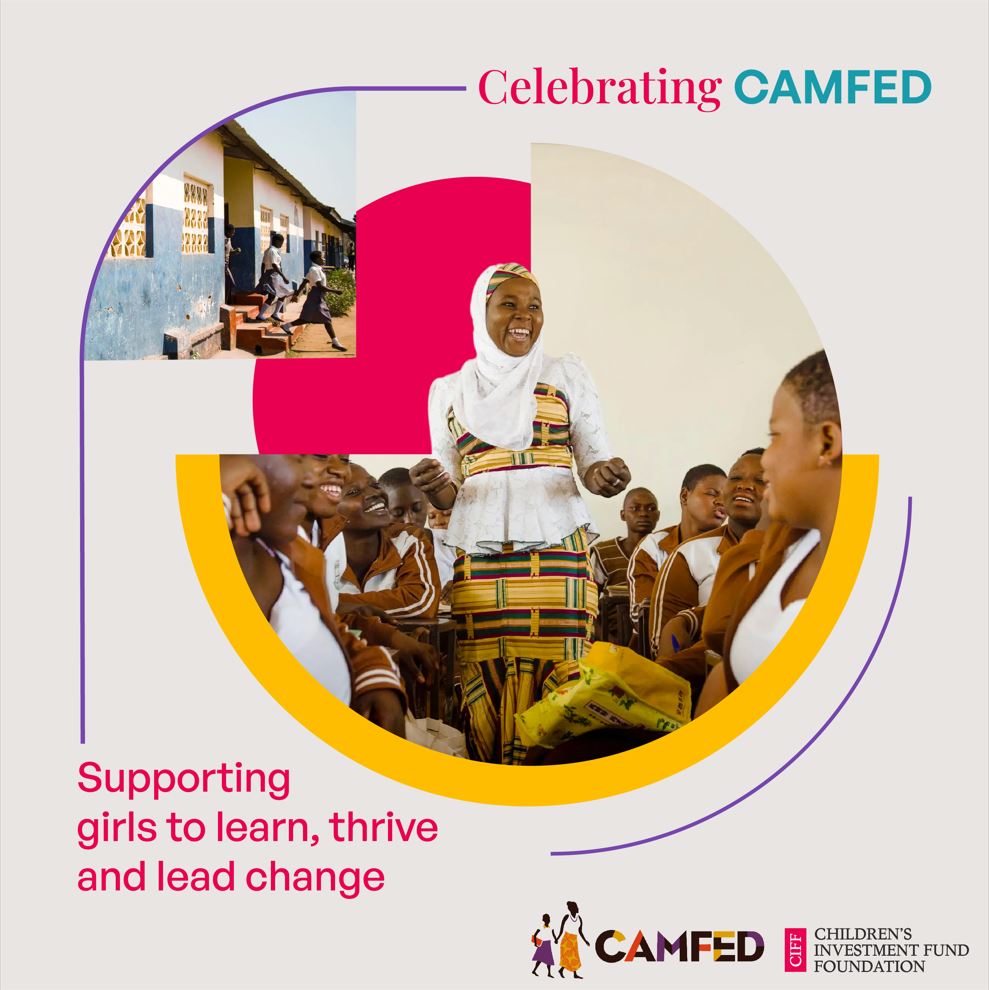 CAMFED
Girls living in sub-Saharan Africa can encounter similar barriers to schooling as those in Rajasthan. That's why CIFF has partnered with CAMFED, an organisation which works in five countries across the region to promote education as a route to gender equality.
CAMFED operates a unique and sustainable model: young women educated with CAMFED support join the CAMFED Association, a peer support and leadership network determined to make the journey easier for the next generation of  girls. Working with CAMFED, as well as galvanising their school communities and local officials to tackle the intersecting barriers to education and equality, these leaders and role models protect girls from gender-based violence, support them to thrive in the classroom, deliver sexual and reproductive health and rights education, and promote economic equality by providing graduates with business training, resources and opportunities beyond the classroom.
The success of young women at school  and as entrepreneurs  post-school demonstrates the importance of education, showing to school-aged girls first-hand how by remaining in the classroom, they can enjoy new opportunities that allow them to reach their potential. This model helps to shift the power dynamics that allow harmful practices such as child marriage.
There are  now more than 250,000 active members in the CAMFED Association, working together to take a holistic approach that will inspire a new generation of female leadership.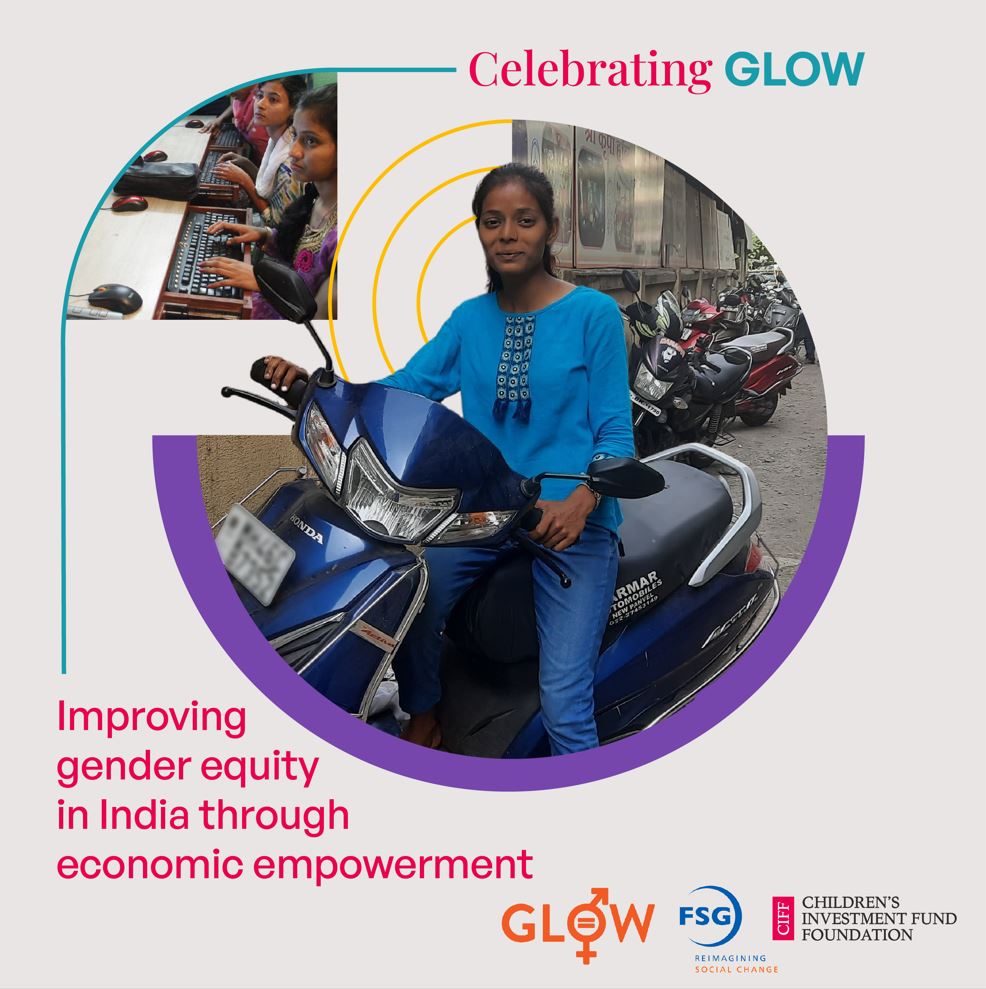 GLOW
Equality starts with education. But it doesn't end there. The Sustainable Development Goals recognise that when women have economic independence, they are empowered to make informed decisions about their sexual and reproductive health, and about their children's education and nutrition. When a woman has her own income, it can help whole families escape the cycle of poverty. But currently, just over a quarter of working-age women in India's urban areas are in work.
This is not because of a lack of ambition. At least a third of urban Indian women who are currently not economically active are keen to get into work. But multiple barriers – including harmful gender stereotypes that women simply can't do certain jobs as well as men – have prevented them entering the workforce, making them dependent on male family members and leaving them trapped in poverty.
To tackle these inequities, CIFF has funded GLOW (Growing Livelihood Opportunities for Women) – a project designed to support Indian women into the workforce so they can earn their own money, gain financial autonomy for themselves and their families, and make their own choices.
GLOW's primary focus has been to tackle those harmful stereotypes, providing businesses with the knowledge and skills they need to champion women's employment and economic inclusion. GLOW has focused on emerging and high growth industries that can hire women who don't have high levels of education or skills, such as the logistics (last mile delivery, warehousing) and flexi staffing (retail and tele-calling). It aims to support companies to onboard women into their workforce, including by developing a roadmap to help businesses embrace equity in the labour market. Through action, GLOW's support has demonstrated to multiple companies the benefits of bringing women into the workforce – both for the women themselves, and the hiring companies.
Black Feminist Fund
Many of our partners take an intersectional approach to gender injustice. Leading the way in understanding how such an approach  is needed in order to embrace equity is the Black Feminist Fund, the first ever global institution focused on directly funding the needs of Black women and gender expansive people in order to tackle gender and racial injustice.
The Black Feminist Fund was set up to respond to a shocking disparity: the lack of funding for Black women's and gender expansive people's movements. Less than 1% of global foundation funding is dedicated to Black women, girls and trans people, despite the clear need to support racial and gender justice if we are to build a fairer and more equal future.
Since launching, the fund has supported Black feminist leaders working across gender-based violence, food sovereignty, electoral justice, and the climate crisis, tackling the urgent issues which deny Black women, girls and trans people the chance to live in a safe and equal world. By the end of 2022, the fund had provided over USD 14 million in commitments to Black feminist groups across the Middle East, Africa, the Caribbean, Latin America, Europe and North America.
Mission Buniyaad and GLOW are helping to create the next generation of female leaders. CAMFED is connecting a generation of empowered young women with the next. And the Black Feminist Fund offers financial support to those women, girls, and gender expansive feminist leaders, as together our partners embrace equity in the face of gendered challenges.
CIFF's approach to embracing equity has been in support of economic and educational empowerment initiatives. We will continue to fund projects that take an intersectional approach, in order to overcome the barriers to women's and girls' equality.