17 Jan 2017
Strategic Headlines 2017-2021
CIFF is reinventing itself to be bolder for children.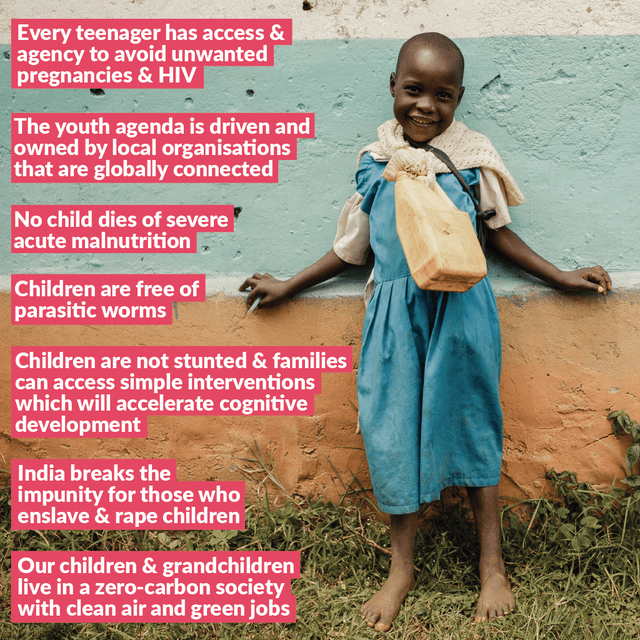 Our Vision
CIFF is reinventing itself. Not because we have changed our mission, but because we have decided to be bolder. Whatever the challenges, we are determined to help solve some of the biggest problems facing children. In the face of political changes around the world, clear-sighted leadership and robust coalitions are needed now more than ever to deliver the Sustainable Development Goals.
For the first time, we are articulating multi-year intent and resourcing, as well as a way of doing business that we think reflects our appetite for performance – click here for our Approach and Values.
"The original mission in setting up CIFF was to improve the lives of children in developing countries who live in poverty. This hasn't changed. I want to solve problems, not make grants." Chris Hohn
In 2017-2021, we will prioritise the following efforts:
At the same time we will continue to champion our existing work and grants in perinatal survival and paediatric AIDS – click here for more details.  We are no longer pursuing new funding opportunities in early education but we continue to support our existing grants – click here for more details.
Once our existing grant portfolio is included, we anticipate disbursements to be over $230 million in 2017 and approximately $200 million per year in subsequent years in order to keep within our 5% spending cap. For more details on CIFF's endowment click here and CIFF's finances click here.  
For details of individual investments, please explore our grant portfolio tool which shows all current and contracted grants, along with descriptions on their intended impact, and the latest data and results where available.